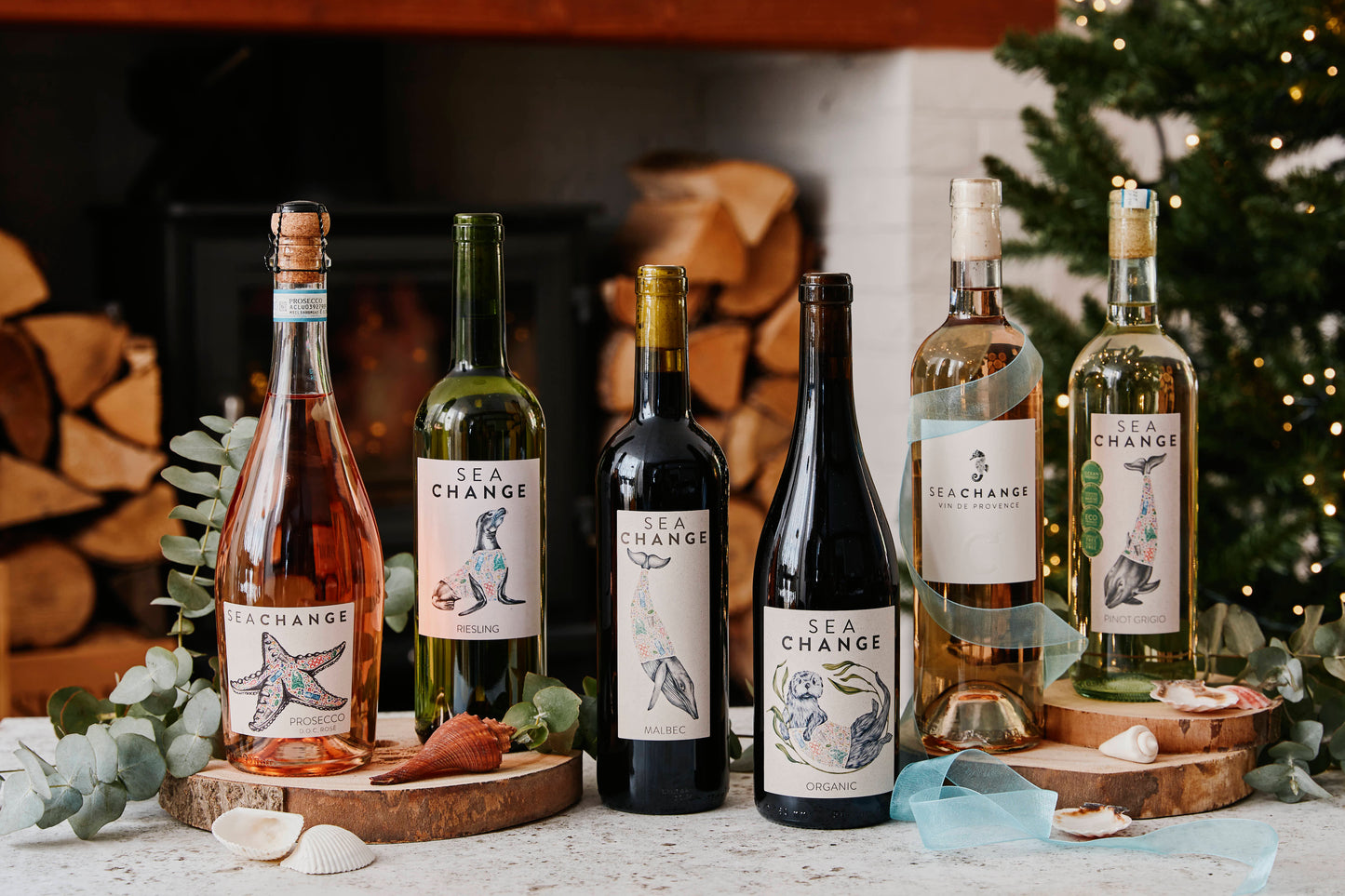 Christmas is on its way and, with our help, you can make it one to remember! Whatever your budget, we can guide you to perfect eco-friendly gifts for everyone on your list, as well as making sure your own Christmas celebrations feel extra special. And of course, Sea Change provides the ultimate guilt-free gifting, with our perfect combination of wine that tastes good and does good. 
WHY GIFT SEA CHANGE FOR CHRISTMAS?
Gifting with Sea Change couldn't be easier – this gifting guide takes the stress out of Christmas with our range of carefully curated, award-winning wines. If you're choosing sustainable Christmas gifts for family, friends or clients, planning a sustainable Christmas party, or just want some festive wine, we're here to help!
Gift messages can be included with any purchase, and our wine will arrive in minimal recycled, recyclable packaging. What's more, every bottle sold means a donation to our marine charity partners who operate across the globe. With over €400,000 raised to date, your gift will be making a tangible impact on the future of our oceans.
Take a look at what the Sea Change range has to offer and explore our range for novices and wine connoisseurs alike. 
THE SIMPLY SEA CHANGE FESTIVE PACK
If you're looking for something with a little 'wow' factor this Christmas, Simply Sea Change is it! This pack showcases the best wines for Christmas and offers something for everyone.
Work your way through our wonderful range from our elegant Prosecco Rosé and decadent Provence to our vibrant Riesling and charismatic Chardonnay. Finishing off with two charismatic reds, our classic Malbec and full-bodied Organic Red. 
Wines: Malbec, Prosecco Rosé, Provence Rosé, Chardonnay, Organic Red, Riesling
CHRISTMAS DAY FESTIVE PACK
Why say 'Happy Christmas' with one bottle of wine when you can say it with three? It really doesn't get more festive than our Christmas Day Pack, with a trio of wines to compliment any holiday feast.
No Christmas is complete without bubbles, so start off the festivities with a celebratory glass of our award-winning Prosecco. Our Sauvignon Blanc will be a hit with those who love a zesty, crisp white, while our Malbec is smooth, sophisticated and full of flavour.
Wines: Sauvignon Blanc, Prosecco, Malbec
WARMING REDS FESTIVE PACK
Buying a gift for a red wine fan? Treat them to our Warming Reds, a trio of the best! Our pack features our award-winning Organic Red, a vibrant Bobal hailing from Spain. It perfectly complements our French Merlot and Italian Negroamaro, bringing the best of Europe's reds in one stunning pack!
Wines: Negroamaro, Organic Red, Merlot
'TIS THE SEASON 
'Tis the Season to be jolly and this pack will delight wine connoisseurs this Christmas. A fantastic trio of Sea Change wines, perfect for seasonal socialising! Consisting of our opulent Marlborough Sauvignon Blanc, our Coonawarra Cabernet Sauvignon from one of the world's finest wine regions and last but definitely not least, Sea Change Prosecco, a multi-award winner with an incredible seven awards to its name.
Wines: Prosecco, Marlborough Sauvignon Blanc, Cabernet Sauvignon 
SEA CHANGE PREMIUM PACK
The ultimate Sea Change pack: our three premium wines ready for Christmas, New Year – or just because! Enjoy our expressive Marlborough Sauvignon Blanc, with aromas of green fruit complimented by riper, tropical flavours such as passionfruit. Sitting alongside this is our gold medal winning Provence Rosé, its delicate pink perfectly balanced and guaranteed to impress. Lastly, Sea Change Coonawarra Cabernet Sauvignon, packed with heady aromas of dark berry and chocolate.
Wines: Marlborough Sauvignon Blanc, Provence Rosé, Cabernet Sauvignon 
HAVE A FESTIVE FIZZ-MAS
We know it's hard to choose between our Prosecco and Prosecco Rosé so here's the solution - our Festive Fizz pack. Three award-winners in one pack including Sea Change Free, our completely non-alcoholic, beautiful tasting wine alternative for those who choose to avoid alcohol but don't want to miss out on that celebratory glass of bubbles.
SEA CHANGE IN A CAN!  
Last but not least, if you're planning a big Christmas or New Year party, did you know that Sea Change also comes in cans? The ultimate in convenience with all the environmental credentials you associate with Sea Change and the same delicious flavours as if you'd poured it from a bottle. 
We offer two varieties in cans, our semi-sparkling Italian wine, also known as frizzante, which is made from 100% Glera grapes. This is the variety we use in our award-winning Prosecco. And Sea Change Free, a completely non-alcoholic, beautiful tasting, eco-conscious wine alternative. Free has no artificial additives or colouring and contains only 27 calories per 100ml serve.
MERRY CHRISTMAS FROM SEA CHANGE 
However and wherever you are celebrating the festive season this year, we hope you have a fantastic Christmas and New Year. Cheers!