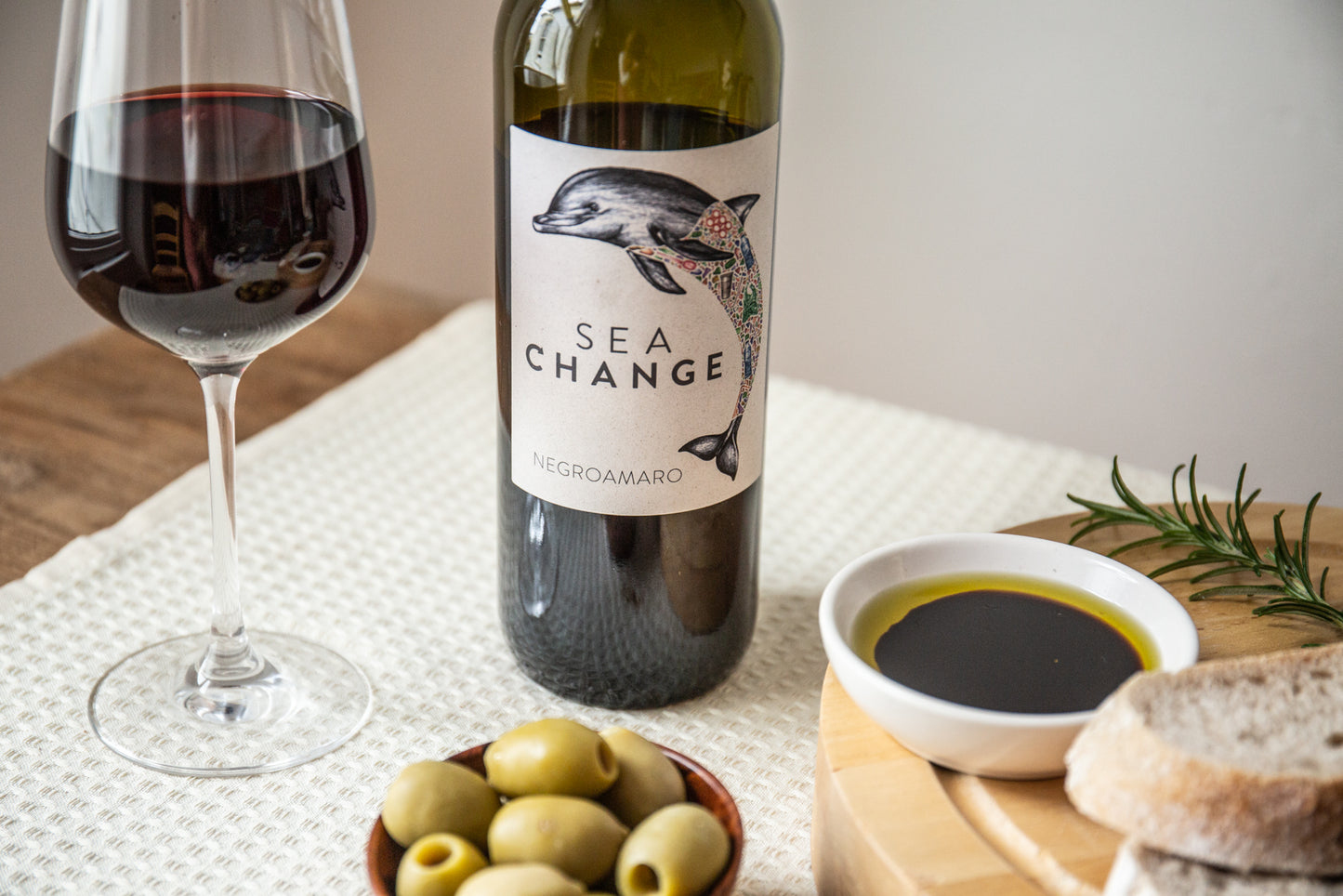 NEGROAMARO AND OTHER ITALIAN WINES
Italy is one of the world's greatest wine regions. From Negroamaro to Prosecco, whether you prefer something fruity and crisp or rich and full-bodied, Italy offers something for all wine connoisseurs.
With incredible mountain ranges, gorgeous coastlines, and a year-round warm climate in many places, Italy is a vintner's heaven.
At Sea Change, we love Italian wines, which is why today we wanted to dig a little deeper into some well-known (and some understated) varietals typically grown in Italy.
NEGROAMARO
Here at Sea Change we are big advocates of this underrated variety. Typically found in the Puglia region in Southern Italy, Negroamaro's appearance depends on the maturity of the grape. The younger the vine, the lighter the red wine. After a few years, however, the fruit graduates to a much darker red, which can sometimes look almost black.
Sea Change Negroamaro is a perfect representation of this lesser-known varietal. Bursting with red fruits and sunshine, we think it really ticks all the boxes, especially with its velvety mouthfeel.
Our Negroamaro is especially suited to those that prefer softer tannins and a smooth, lingering finish.
MONTEPULCIANO D'ABRUZZO
Montepulciano D'Abruzzo is a bold Italian varietal. Often deeply coloured with notes of spice and pepper, it's a rustic red, making it perfect for cosy autumn nights by the fireplace.
Sea Change Montepulciano D'Abruzzo comes from the Abruzzo region of Italy. This is one of Italy's most mountainous areas, making it a haven for winemaking.
Our Montepulciano D'Abruzzo manages to be both easy drinking and full of flavour.
With hints of cherry and raspberry nested against cinnamon and smoky spice, this amalgamation of flavour is winter in a cup.
PROSECCO
Overshadowing Champagne in popularity, Prosecco is celebrated not only for its delicate, fruity tasting notes, but also for its signature bubbles, which come from two rounds of fermentation instead of one.
It's also one of those drinks that people associate with good times and special occasions. From summer weddings to afternoon tea, chances are, you've indulged in a glass of Prosecco on an occasion.
Sea Change offers its very own take on this Italian classic. Elegant, award-winning, and crisp are just some of the words used to describe our Prosecco.
PROSECCO ROSÉ
Prosecco is iconic on its own, but as with all things in life, there's always room for refinement.
Enter Prosecco Rosé.
Not to be confused with Sparkling Rosé, Prosecco Rosé is a beautifully pale, sparkling wine that's the ultimate drink for romantic occasions.
Sea Change Prosecco Rosé is one of our most popular offerings. We put this down to its sheer elegance and echoes of fresh summer berries.
PINOT GRIGIO
Pinot Grigio is another exemplary Italian varietal. We all think we know it, but it's a varietal that might surprise you.
Possibly the most surprising thing people learn about Pinot Grigio is that its grapes aren't white. They're a distinctive greyish blue, slightly pink colour.
One thing that people can always count on when it comes to Pinot Grigio, however, is its stunning taste.
Sea Change Pinot Grigio originates from Northern Italy and is famed for its bright citrus flavours, zippy acidity and its refreshing minerality.
PINOT GRIGIO ROSÉ
Pinot Grigio Rosé is a perfect choice for those that love Pinot Grigio but also appreciate a pale pink rosé.
As with all wine, Pinot Grigio Rosé's vary in taste, but they tend to lean towards the drier side with subtle notes of citrus.
Sea Change Pinot Grigio Rosé is a wonderfully refreshing and vibrant dry rosé.
Packed full of rich summer fruit with balanced acidity and a delicate floral nose – it's a real crowd-pleaser.
We've combined everything we love from Pinot Grigio with the fruity and flavoursome characteristics of rosé.
CHARDONNAY 
While Chardonnay can be found all over the globe, it is commonly grown in Italy.
Chardonnay is compared quite frequently with Sauvignon Blanc. This makes sense as both are dry wines and bout amazing aromas and flavours.
Both are delightful varietals for different reasons, however, if you prefer a white that's more about fruits than acidity, then Chardonnay may be your go to Italian white.
When it comes to Chardonnay, the big discussion is around unoaked and oaked Chardonnay.
Some people dislike oaked Chardonnay because they claim it's too woody – some Australian Chardonnays, particularly those produced en masse in the 1980s and 1990s, had a strong woody flavour, putting some people off. However, the grape varietal itself is very versatile, and – with or without aging in oak barrels – remains the key ingredient in many of the world's favourite wines.
Sea Change Chardonnay is best described as a dry white that's 'fruit-forward.' It also has a well-balanced structure and is mouth-wateringly crisp.
As you can see, Italy has a lot to offer when it comes to wine. With such a diverse range of environments and a year-round hot climate in many regions, it's no wonder!
For a taste of Italy this summer, why not check out the Sea Change shop?