Blog — alternative to champagne
Sea Change Wine

Tags:

0% alcohol, 0% Prosecco, 0% wine, alcohol free champagne, alcohol free in a can, alcohol free Prosecco, alcohol free wine, alternative to champagne, aluminium cans, bubbles, canned prosecco, canned wine, Christmas drinks ideas, Christmas gifting, Christmas party, Christmas party hosting, Christmas party ideas, Christmas wine gifts, eco Christmas, eco parties, Eco wine, Festive, fizz, Gifting, green Christmas, Merlot, Negroamaro, New Year drinks, new year hosting, New Year parties, New Year wines, non alcoholic drink, non alcoholic prosecco, non alcoholic wine, non drinker, non-alcoholic sparkling wine, plastic-free, Prosecco, Prosecco DOC, Provence, Red Wine, Rosé, Sea Change Free, Sea Change Organic Red, Sea Change Organic White, Sea Change organic wine, Sea Change Pinot Grigio, Sea Change Prosecco, Sea Change Prosecco Rosé, Sea Change Provence Rosé, Sea Change Wine, sustainable Christmas, wine for Christmas, wine for men, wine gifts, wine gifts for men, wine gifts for women, wine presents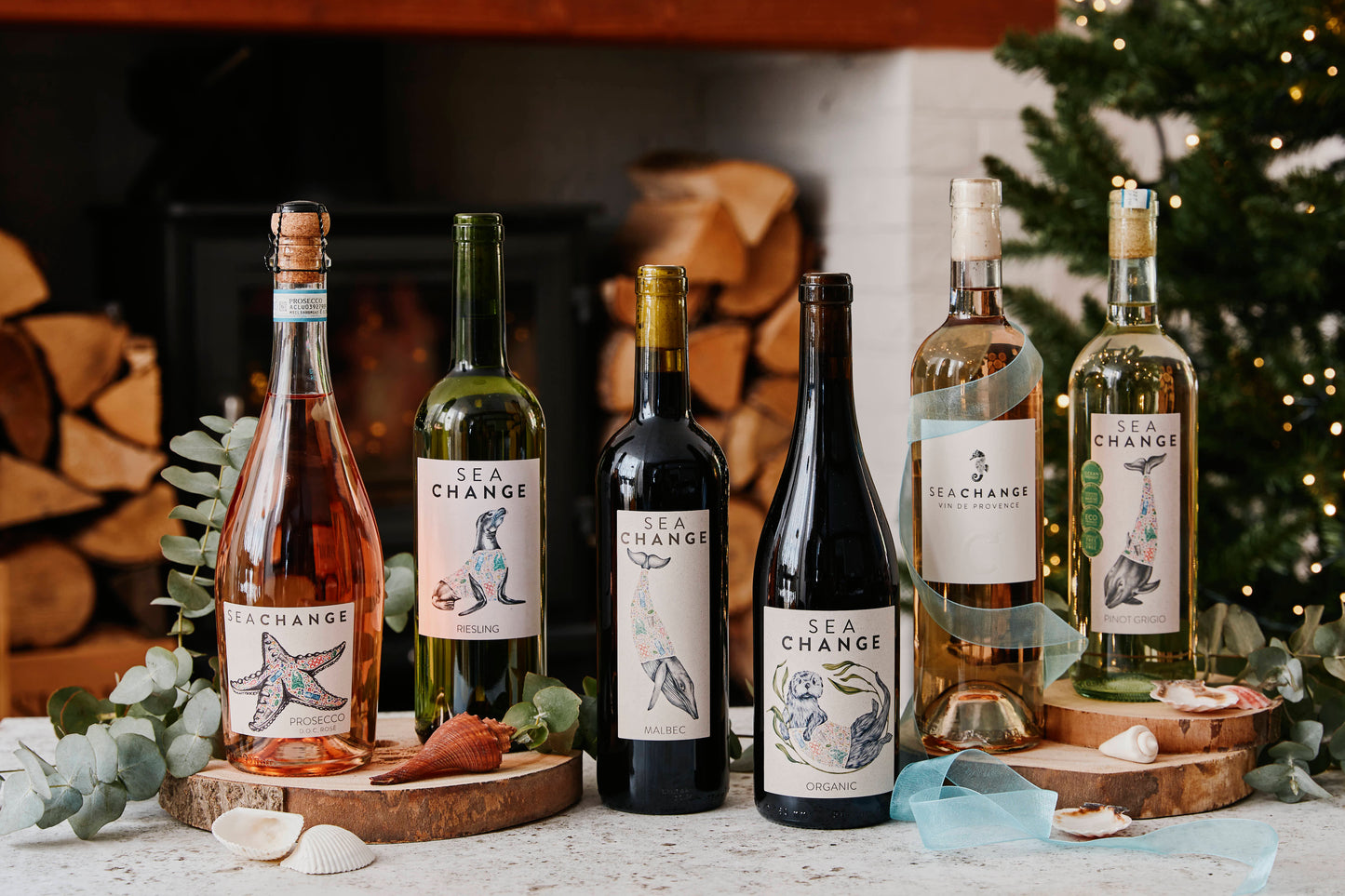 Christmas is on its way and, with our help, you can make it one to remember! Whatever your budget, we can guide you to perfect eco-friendly gifts for everyone on your list, as well as making sure your own Christmas celebrations feel extra special. 
---
Sea Change Wine

Tags:

0% alcohol, 0% Prosecco, 0% wine, alcohol free champagne, alcohol free in a can, alcohol free Prosecco, alcohol free wedding, alcohol free wine, alternative to champagne, aluminium cans, boho wedding, bubbles, canned prosecco, canned wine, charity, eco décor, eco friendly wedding, eco parties, eco wedding, eco wedding ideas, eco wedding inspiration, eco wedding inspo, eco wedding planner, eco wedding tip, eco wedding wine, eco weddings, Eco wine, environmentally friendly wedding, event table décor, fizz, Mr & Mr, Mr & Mrs, Mrs & Mrs, non alcoholic drink, non alcoholic prosecco, non alcoholic wine, non drinker, non-alcoholic sparkling wine, plastic free wedding, plastic free weddings, Prosecco, Prosecco DOC, prosecco in a can, romantic wine, Sea Change Free, Sea Change Prosecco, Sea Change Prosecco Rosé, Sea Change Wine, sparkling wine, sustainable wedding, sustainable wedding venue, sustainable wine, unforgettable weddings, unique wedding, unique wedding décor, wedding decor, wedding drinks, wedding inspiration, wedding inspo, wedding table setting, wedding tips, wedding wine, weddings inspired by nature, wine for weddings, zero waste wedding
If you've recently got engaged - congratulations! Planning a wedding is exciting and it's one of the most memorable events of your life but, with some thought, you can also prevent it being the most wasteful. Read on for some of our top tips and advice to make your big day as earth friendly as possible and show the planet as much love as you show your partner!  
---
The UK is now the largest market for Prosecco, but it wasn't always that way. A decade or so ago, you'd struggle to find Prosecco on the wine list in your local restaurant, or on the shelves in the supermarket. Today it couldn't be more different, with Prosecco being the sparkling wine of choice for so many of us.